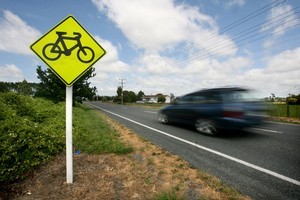 Auckland Transport hopes to save more than $13 million in "social costs" by improving safety on what have been assessed as the region's 10 most dangerous cycling routes.
Consultants to the council agency have ranked the 50 riskiest routes using crash records from the past five years, making allowances for their length and daily traffic volumes.
They have mapped 1393 reported cycling crashes - in which 1043 riders were injured and five killed - and recommended priority safety treatment for the 10 most dangerous routes.
Although only one of the deaths - that of Englishwoman Jane Bishop on Tamaki Drive in 2010 - occurred on a road in that group, the top 10 accounted for 243 crashes at an estimated "social cost" of just over $38 million.
That was calculated on a government scale in which the average social cost of each death has risen in annual adjustments to $3.67 million, against $625,000 represented by each reported serious injury and $61,000 by every reported minor injury.
The injury estimates are inflated above actual costs, to take account also of unreported injuries.
The consultants said it should be possible to make savings on the worst crash routes of at least 35 per cent through safety improvements, which for the top 10 would be about $13.3 million.
They suggested studying and improving the top five routes first, then monitoring them to ensure the rest were being being given the correct priority.
That was because there was no universally accepted correct method for deciding which cycle routes should have remedial work.
Auckland Transport road corridor operations manager Andrew Allen said the assessment was the first of three projects in which routes were being ranked for safety improvements for all road users.
The organisation was doing the same for general traffic and for motorcyclists, for which risk assessment maps were being plotted, "so we prioritise our funding to the right areas."
Public affairs manager Wally Thomas said some of the high-risk cycling routes were already under investigation for safety improvements.
MOST DANGEROUS ROADS
* The roads were ranked on several measures, including the number of fatal or serious injury crashes for each kilometre over five years.
* Tamaki Drive bore the highest social cost - $15.64 million - for 16 serious and 52 minor injuries to cyclists over its 8.5km from the Strand to St Heliers.
* The next most dangerous route was Gladstone Rd and St Stephens Ave in Parnell where the $1.28 million social cost came from of two serious and three minor injuries were inflicted over just 1.1km.
* Great North Rd and Karangahape Rd were third with seven serious and 19 minor cycling injuries.
* Cyclists were also killed on Pakuranga Rd, Mt Smart Rd, Rosebank Rd and Peak Rd.