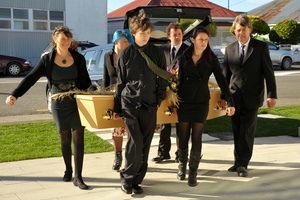 At 16, fresh-faced Robbie Cameron was too young to die. He was fit and healthy, yet he died in his bed a week ago.
A coroner will eventually decide what happened, but his mother, Sue, has confirmed he vomited in his sleep after drinking up to eight stubbies of beer at home in the "family environment".
Robbie's death, on the 4860ha Pahaoa Station in Wairarapa last Saturday, stunned everyone.
"It's the hardest thing that any family could ever go through. We're a very tight family with five kids and there's only six and a half years between them. They did every-thing together. My older kids are finding it massively hard and it's left a huge hole in my family," Cameron said.
Robbie, a weekly boarder at Wairarapa College, was drinking beer in a farm- implement shed with a bonfire burning outside.
"I could see them, they were having fun and laughing. It was him and his big brother Kyle, Kyle's friend Patrick and their Uncle Ferg," said Cameron.
"I went to bed about 1am and they came up not long after, about 1.30ish. They were banging around in the kitchen, making things to eat. Robbie went into his room, sat down at his computer and was listening to music."
Then he went to bed.
"At some point he must have thrown up in his sleep and it looks like he choked."
His brother, Kyle, 22, went into his room at about 11am and found him dead.