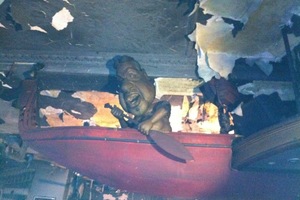 A Peter Dunne puppet was destroyed by a fire at Wellington's Backbencher pub but the United Future leader says "all good things come to an end".
Satirical Spitting Image-style puppets of Mr Dunne and Maori Party co-leader Pita Sharples were among the memorabilia damaged in the early morning blaze at the political landmark.
However, Mr Dunne said the puppets of Prime Minister John Key and Deputy Prime Minister Bill English survived.
"I don't think there's any divine intervention in that. The puppet had a good run, but all good things come to an end."
Mr Dunne was was sad to learn about the fire that gutted the kitchen and damaged the bar and restaurant of the historic pub on Molesworth St opposite Parliament.
"It's unfortunate that a connection to Parliament has been destroyed and hopefully something can be resurrected."
Embattled education minister Hekia Parata was among residents affected when the neighbouring Kate Sheppard apartment building was evacuated after the fire started about 4.45am.
Firefighters were alerted by alarms in the apartment building, and inhabitants of all 10 floors were told to get out.
Ms Parata helped security guards give people shelter inside the main foyer at Parliament.
"We arranged for them to go into the Beehive so they could be warm," she told Radio New Zealand. "The security guards were absolutely marvellous getting blankets and things for the young babies."
The drama came the night after Ms Parata was forced to announce a Government backdown on plans to increase class sizes after a huge backlash from parents and teachers.
Reports suggested the Backbencher would be closed for a month after the fire.
Fire Service central communications shift manager Murray Dunbar said crews were called to the blaze about 4.45am after the alarm at the Kate Sheppard Apartments next door was activated.
General manager Alistair Boyce told the Dominion Post the pub would be closed for four weeks due to the damage.
The puppets of United Future leader Peter Dunne and Maori Party co-leader Pita Sharples were "charred to a crisp", he said.
Mr Boyce told the Dominion Post the pub's 40-50 employees should have their wages covered over the period.
- APNZ with Herald online