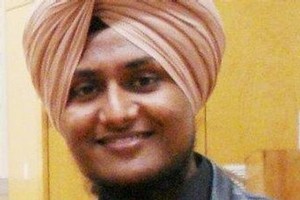 The man accused of murdering security guard Charanpreet Dhaliwal in November last year has appeared in court.
The man, 27, was arrested on Tuesday following a six-month homicide investigation.
He appeared before Judge Heemi Taumaunu in the Waitakere District Court this morning, supported by a dozen or so family members.
The hearing was dominated by closed-court discussion between the judge and lawyers, which cannot be reported.
The man's name was originally available but it cannot be now used after a judge, Justice Venning, imposed name suppression on July 13.
The man's lawyer Lorraine Smith did not apply for bail and the accused was remanded in custody.
He smiled and waved at supporters throughout the hearing, one of whom shouted "I love you'' as he was led back to the cells.
He will be back in court later this month for a plea-inquiry hearing.
He was one of the four men whose descriptions were released last month after they were kicked out of Chicks nightclub, 400 metres from the murder scene, on the night of Mr Dhaliwal's death.
The 22-year-old was found slumped over a concrete block at a Fulton Hogan construction site on Selwood Rd in Henderson at 3.11am on November 18.
An autopsy showed he died of a blow to the head. He was found near the main gates of the site by workers returning a truck. It was his first shift as a guard.
At first, police did not believe he was murdered but neither did they rule out foul play. A week later, they upgraded the investigation to a homicide.
Mr Dhaliwal's mother Karamjit Kaur told the Herald it felt like the lives of their whole family had been ruined by his death.
She questioned why he had been out patrolling alone on his first night and without a walkie-talkie to contact a support person.
- APNZ