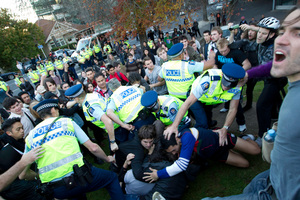 Another protest against education cuts will be held tonight in Auckland - but organisers say it will be a more passive affair.
'Don't turn out the lights on education!' is being billed as a silent "study-in" protest planned to start at 8pm at the University of Auckland library.
One of the organisers, Jai Bentley-Payne said they are trying to avoid any confrontation with the police.
Students are working on an exit strategy today, he said. "But the key will be if we leave, it will be as a big group.''
The demonstration is one of a series of student protests against cuts announced in the government's Budget.
The group of students behind the protest have branded themselves as 'Blockade the Budget' and said "this movement is not a one-off demonstration - it is a sustained campaign against an ideological attack on education.''
Last Friday's protest by Blockade the Budget resulted in over 200 students sitting down across the intersection of Queen and Victoria Streets in the central city, blocking peak-hour traffic.
Forty-three protesters were arrested after clashing with police.
The students are protesting against provisions to cut student allowances at four years, freezing the parental income threshold and increasing the repayment threshold for graduates from 10 to 12 percent.
If police arrive at tonight's protest and attempt to evict the students once the library has closed Mr Bentley-Payne said it is highly likely that the students will leave peacefully, but as a group.
"Protesting doesn't get you good grades, these students that are involved in political action have to study for their exams as well.
"One of the things that you get out of acting as a community is that you get support from that, so that's what these students are doing - is they're supporting each other in their endeavour to study for their exams and prepare for what they're actually at the university for, which is to get a good education.''
Students interested in being part of the tonight's 'study-in' are encouraged to bring torches, lamps and study materials.

- APNZ