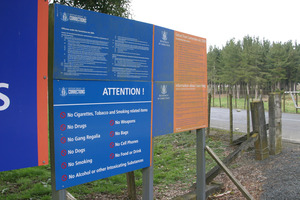 Corrections staff and police are hunting for a pair of prison inmates who escaped their cell at Waikeria Prison near Te Awamutu.
A security breach at the prison was reported to police at about 2:25am.
Two prisoners had escaped from their cell and were thought to be hiding in the prison grounds, Corrections said.
Corrections prison services manager Jeanette Burns said prison staff and police were still searching for the missing inmates.
An investigation had been launched into the escape, she said.
"Public safety is our absolute priority and we are extremely concerned at this breach of security."
The escape happened in a unit due to be closed in April next year, Ms Burns said.
Senior Sergeant Pete van de Wetering said police involvement was limited.
"However a response contingency is in place if it becomes apparent the inmates have managed to get off the property."
- Herald Online