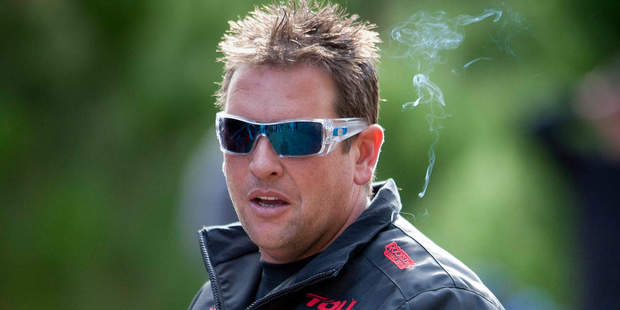 Sporting a new haircut and flashy sunglasses, Lotto multi-millionaire Trevor created a stir among crowds at an offroad race near Auckland.
The $26 million man smoked cigarettes and drank from a large can of energy drink as he took in the action of the Wood Hill 100 on Sunday.
An onlooker said Trevor looked relaxed as he talked to a group of friends about his recent spending spree in the United States. He treated dad Kevin to the California trip to buy a new off-road buggy.
Racing runs in the blood - his parents are members of the Offroad Association.
Friends reacted incredulously when Trevor told them legendary off-roader "Pistol" Pete Sohren acted as his spotter during test drives.
"His friends were joking with him about all the money he had spent, and he said, 'I've finished buying mum and dad a house, now there's not much left in the play kitty'," the onlooker said.
"His appearance created quite a stir, people were asking each other if they'd seen 'Trevor the Lotto guy'."
Trevor - who was renting in the Waikato town of Te Kauwhata before his win - bought his first home in the Franklin district last month.
The property reportedly cost $2,200,500 and is close to million-dollar-plus properties bought for his parents and sister.
Trevor made headlines when he went public after winning $26,598,265 in Lotto's biggest prize draw for years in April.
Instantly dubbed New Zealand's most eligible bachelor, the former supermarket checkout operator quickly indicated where some of the money would go.
"I can tell you one thing ... My father, myself, my brother-in-law, you'll probably find us at Western Springs speedway come this time next season driving our race car."