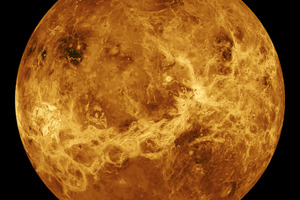 It's not looking good for seeing the transit of Venus on Wednesday.
The weather gods are conspiring to throw a cloak of rain over most of the North Island.
MetService spokesman Dan Corbett said he hoped the outlook was wrong but a system developing in the Tasman Sea looked set to spoil the show.
"At this stage it looks like most of the North Island will be covered in rain on Wednesday,'' Mr Corbett said.
"Sadly, the best chance of getting a glimpse of the transit would seem to be the south of the South Island - perhaps somewhere like the Mt John Observatory."
But Mr Corbett said the rain and cloud was expected to reach further south.
MetService had started to get anxious inquiries about the weather for the transit and Mr Corbett said he would like to be able to give everyone a good forecast.
"The weather system heading our way could weaken, slow down or change direction - but on its present behaviour it looks set to wheel in the cloud over Gisborne and East Coast celebrations late on Tuesday."
"The rain is expected to start on Wednesday morning and get heavier as the day progresses.''
"I'd have to say at the moment, it looks like viewing the transit of Venus is doomed."
However, Mr Corbett did offer one glimmer of hope.
"Rain usually comes in bands, or localised `lumps', and there's always the chance to glimpse the transit through short breaks or holes in the cloud cover.''
"The jury is still out but it looks pretty certain they're going to come back with an unpleasant verdict.''
If the gloomy outlook proves wrong, those wishing to observe the event should note Wednesday's transit of Venus starts at about 10.15am, with the middle of the event around 1.30pm.
Venus reaches the far edge of the Sun by 4.25pm and the event ends by 4.45pm.
- GISBORNE HERALD