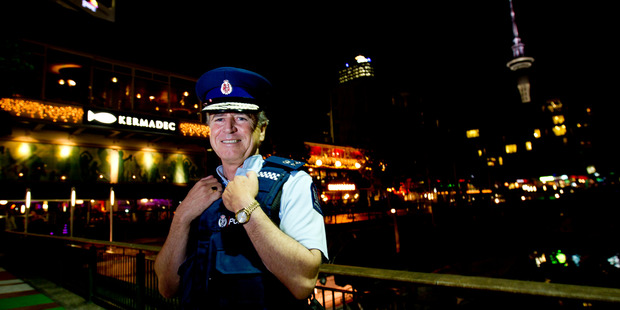 Police Commissioner Peter Marshall spent last night on patrol in inner-city Auckland and says his staff are worried about the abuse of alcohol.
Mr Marshall joined Detective Sergeant Iain Chapman and two other Auckland Central police for the evening shift, which involved a walk around the Viaduct Harbour and downtown Auckland.
Mr Marshall said the inner-city area was a problem spot for staff at weekends.
"It's fair to say that there's real concern by police officers in terms of the alcohol situation around K' Rd and Queen St. I intend to see first-hand what the situation is like."
Residents near and on Queen St have complained of fighting and drunken and reckless behaviour by revellers in the early hours.
The commissioner told the Herald he was looking forward to changes under the Alcohol Reform Bill, which will be passed this year.
"We need to get very much in sync with the licensing organisations and they need to listen to the police."
Mr Marshall said alcohol was a serious issue for police, especially during weekends.
"When I joined the police, the bars would close at 10 o'clock at night, and [in] the morning the police had reclaimed the streets.
"Now it's 24 hours and the [police] staff are working an awful lot harder in the context of alcohol."
The commissioner also commended the "one-way door" policy in the bill. Under the policy, which has already been voluntarily implemented by some Auckland drinking spots, bars close their doors at 2am. Those inside are allowed to remain, but no new customers are let in.
"Certainly the one-way approach worked well in other districts [as is] anything that [enables] the people involved in management working at these bars to actually control the situation, to take the initiative and not wait for us to come," Mr Marshall said.
"Because by the time we get there, it's too late. And it's not going to be a happy ending."