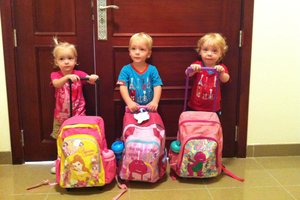 The parents of Kiwi triplets trapped and killed in a fire in a Qatar shopping centre broke down while attending a moving vigil held in memory of the dead.
Meanwhile, it has been reported that five people have been arrested in connection with the fire, including the owner of the daycare centre where the triplets and 10 other children died.
Lillie, Willsher and Jackson Weekes, who turned 2 in March, died of smoke inhalation when an inferno ripped through the Villagio Mall in Doha on Monday.
The couple attended the vigil in a park near the mall where their children and 16 others, including childcare workers and firefighters, died.
Many Kiwi expats were among the 1500 who gathered at Aspire Park in central Doha to remember the victims.
Mr and Mrs Weekes were visibly distraught and holding soft toys.
A group of Kiwis performed a haka as the couple clung to each other, sobbing and shaking.
Mr Weekes, wearing an All Blacks jersey, looked drawn and distressed and held a small teddy bear to his heart during the haka.
Mrs Weekes' parents, Ron and Jo Turner, and Mr Weekes' brother David had travelled to Doha to support the couple, who have three older children, Tatjana, Natalya and Nikolai.
Before leaving New Zealand, Mr Turner said the family would "bring our babies home".
However, funeral plans had not been finalised.
Yesterday the Qatar News Agency reported that the nation's Attorney-General had ordered the arrests of the mall's owner, its manager, its assistant manager, the assistant director of security and the owner of the Gympanzee creche.
Investigators in Qatar carried out their first extensive search through the fire-ravaged centre.
QNA reported that the findings from a state inquiry were expected within a week.
Tributes and messages of support have been posted online for the Weekes family.
"All the members of Doha Mums would like to extend their heartfelt condolences to the families and friends of the children and employees who passed away as a result of the horrible fire today," said the Doha Mums website.
"We all lost members of our 'family' today and we are simply gutted. Please know you are in our thoughts and in our prayers."
Mrs Weekes belonged to the group and ran a regular coffee group for it.