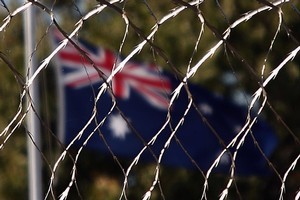 New Zealanders crossing the Ditch to seek work will no longer be able to hide their criminal history when new record-sharing measures take effect.
A six-month trial will begin in July to allow Australian and New Zealand employers to check criminal records from each other's countries before taking on an applicant.
New Zealand employers' access to background checks will be limited to Queensland for the trial, but it could be extended to all Australian states after the measure is reviewed.
Justice Minister Judith Collins signed a memorandum of understanding with her Australian counterpart, Jason Clare, yesterday as part of a wider programme on border control and law enforcement between the two countries.
The issue was prioritised by Prime Ministers John Key and Julia Gillard in January, as law enforcement officials looked to keep pace with the growing transtasman labour market.
New Zealand showed a net loss of 3500 migrants to Australia in April, a record for the month, and nearly 40,000 migrants in the last year.
At present, New Zealanders and Australians can enter each other's countries as long as they have not spent more than a year in prison.
But serious criminals can slip through immigration controls by lying on entry documents.
Privacy and legal obstacles allow people with criminal records to avoid background checks when applying for jobs.
Ms Collins said the new measure would improve disclosure of criminal records. Employers would have to get the written consent of a job-seeker for a background check.
"This is a significant step in implementing the agreement to enhance criminal history information sharing between New Zealand and Australia," she said.
"The scope of the trial strikes the right balance between including agencies that can benefit most (because they already operate in potential high-risk sectors, and with vulnerable individuals), and the need to ensure robust operating procedures are in place before consideration is given to extending the arrangement."
The information-sharing initiative was sparked by the case of expatriate New Zealander Joel Hohepa Morehu-Barlow, who was charged with stealing more than A$16 million ($20.5 million) from Queensland Health.
Morehu-Barlow gained a job in Australia in 2005 despite a criminal record in New Zealand which included the theft of $55,000 from the tax office.
A subsequent investigation found New Zealanders had entered Australia despite convictions for manslaughter, rape, burglary, and kidnapping.
Ms Collins said New Zealand agencies that carried out high-risk employee checks through the police - Ministry of Social Development, Child, Youth and Family, the Teachers' Council and IHC New Zealand - would extend their checks to Australia.
She said the trial similarly enabled Queensland state government employers to extend their criminal history checks to New Zealand.
NOW
* New Zealanders and Australians can enter each other's countries if they have not spent more than a year in jail.
* People from both countries can avoid background checks in job applications and slip through immigration by lying on immigration documents.
TRIAL (July 1-Jan 1)
* Employers in Queensland will be able to check the criminal records of expatriate New Zealand job-seekers, with permission from that individual. New Zealand employers can also get expatriate Australians' criminal records.
* The initiative could later be extended to all Australian states.