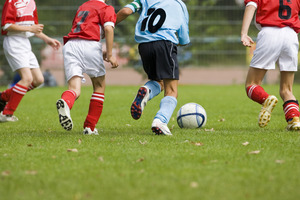 A foul-mouthed outburst and alleged death threat shocked parents and children at a Wellington junior football game.
Ugly scenes erupted between a Waterside Karori AFC ref and an Island Bay United coach on May 12, said Waterside Karori treasurer Graeme Peters.
"There was a goal. They didn't have nets up ... so there was a disputed call by the ref. The goal was disallowed. Apparently there was quite a lot of negativity from the Island Bay coach. He started to swear. It got worse and worse and worse."
The coach confronted referee David Adams at Sinclair Park, allegedly threatening to kill him.
Peters said the hot-tempered coach was red-faced the next day.
"He said things had escalated. He admitted he said things he shouldn't have said."
The venomous affair was a far cry from the passionate but sporting displays on show at one busy Auckland sports ground yesterday.
Football and league fans at Manurewa's Mountfort Park may be loud - but those the Herald on Sunday spoke to were horrified at hearing of recent attacks on referees.
On one field, football supporters saw South Auckland rivals Scorpions and Tigers battle for glory.
"Our team has a bit of a reputation for being really nice and loud," Tigers' supporter Sarah Green said. "Our kids like that."
Over on the league pitch, Manurewa Marlins supporters were good-natured as they watched their under-12 team beat the visiting Mt Albert team. Junior Ka, who came to watch his son Josh, said, "We've had some vocal supporters but they're just passionate about the game."