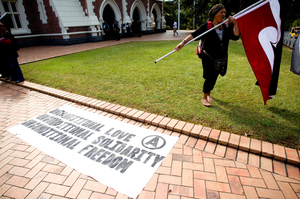 Protesters outside the Auckland High Court in support of the Urewera Four. Photo / NZ Herald
About 20 protesters were outside the High Court in Wellington today pledging support for the Urewera Four.
Chants of "Maori are under attack, stand up fight back" were yelled through megaphones to perplexed onlookers.
Some vehicles tooted in support as they drove past.
"The High Court is a symbol of injustice," said Kay Jones.
She said she was a seventh-generation New Zealander with Scottish and Shetland heritage so could understand the oppression felt by Maori.
"We're all boat people."
Tame Iti, Te Rangikaiwhiria Kemara, Urs Signer and Emily Bailey were sentenced in the Auckland High Court yesterday on charges stemming from the Urewera raids of 2007.
Iti and Kemara were sentenced to two and half years in prison, after being found guilty of six firearms charges and not guilty of four.
Signer and Bailey were both sentenced to nine months' home detention, pending probation reports on whether their home in Parihaka, Taranaki, was a suitable location.
They will return to court next month to hear that decision.
Signer was earlier found guilty of five firearms charges and not guilty of five. Emily Bailey was found guilty of six firearms charges and not guilty of four.
- APNZ