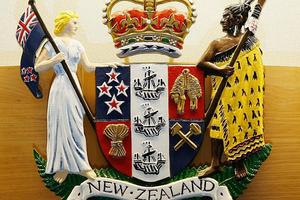 Thick clothes saved a man stabbed multiple times by his partner from very serious injury or death, a judge says.
Carrolyn Winkleman, 22, of Rotorua was yesterday sentenced to two years and eight months in jail after previously pleading guilty to a charge of wounding her partner with intent to cause him grievous bodily harm.
Rotorua District Court Judge Chris McGuire spoke of the seriousness of the offence and said the victim was saved by his clothing.
"Charges of this kind are very close to the worst charges in our Crimes Act - where the life of another person is taken.
"Who knows were it not for the thick clothing you may today have been facing one of those charges?"
The incident occurred last September 20 when Winkleman started arguing after drinking together.
Winkleman's partner was touching her and rubbing her shoulder. Winkleman asked him to stop but when he wouldn't she grabbed a large kitchen knife and stabbed her partner multiple times.
The victim was wearing three layers of clothing including a thick hooded sweatshirt and a thick jacket.
Police found more than 15 cuts to his jacket as well as other marks.
Winkleman rendered some medical assistance but it wasn't until several hours later that her partner was taken to hospital after being picked up for work.
He had surgery and 11 stitches to a stomach wound. Other cuts needed 19 other stitches.
The victim was off work for a month.
When spoken to by police Winkleman admitted what she had done and said she had been drinking alcohol.
She told police she was gutted about what had happened.
Judge McGuire said he had read the pre-sentence report which referred to Winkleman's use of alcohol.
"At the time you were consuming on a daily basis a box of ready to drink bourbon and coke. I just pause to say that ... The only words I can think of are insane and outrageous."
Winkleman cried throughout the sentencing yesterday and her lawyer, Harry Edward, pleaded with Judge McGuire not to send her to jail.
Mr Edward said home detention could be imposed given Winkleman's age, lack of previous convictions, her remorse, that she had self-referred to an agency to get help and that she and the victim had reconciled.
Crown prosecutor Ngaroma Tahana said she was not opposed to home detention being imposed if the prison sentence was less than two years.
However, Judge McGuire said he could not impose home detention for such serious offending.
Judge McGuire said the starting point was four years' jail but he reduced that to two years, eight months due to Winkleman's guilty plea, her remorse, her reconciliation with her partner and the fact she had been getting help.
For more articles from this region, go to Rotorua Daily Post