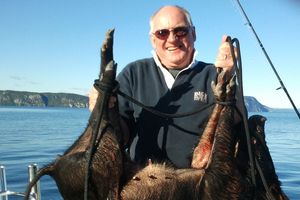 Two fishermen caught a wild pig trying to evade a dog by swimming into Lake Taupo.
Kuratau man Bob Monteith and a mate were in Kawakawa Bay in the lake's remote northwest quarter when they heard a dog "going to town".
About 200m offshore they came across the pig, with the dog in pursuit.
They moved their boat between pig and dog, lassoed the pig, pulled it on board, and killed the animal.
The dog went back and the hunter wasn't seen.
"I was waiting for a shot across the bows," Mr Monteith said. ..."
Mr Monteith said the fishing wasn't a huge success, with only 10 trout between two boats in three days.
"A couple of 60-year-olds trying to pull this pig in was quite hard."
- APN