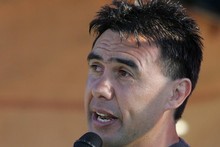 A former All Black facing assault and drug charges after World Cup Rugby final celebrations last October should know the outcome tomorrow.
When Stephen John Bachop, 45, of Whitby, appeared at a status hearing at Wellington District Court this afternoon, Judge Susan Thomas was told a charge of possessing a pipe for smoking cannabis may be withdrawn.
Bachop's lawyer Val Nisbet said police had indicated "in the last 20 minutes" that they might also reduce a male assaults female charge relating to his wife.
He has until tomorrow morning to reconsider his earlier not guilty pleas, including on further charges of resisting police, common assault and possession of cannabis.
The pleas were entered late last year and a defended hearing was set down for May 28.
Bachop initially had name suppression but did not pursue it at a December callover. He was absent then, but Mr Nisbet told the court his client did not want his name published at the outset because he wanted time for he and his partner to speak with their children, immediate family and employers.
Today Mr Nisbet told Judge Thomas it had been an emotional time for the family.
"A quick resolution to this would be of benefit to them all."
An application for police diversion was declined at an early stage.
The judge said there was a "fairly significant" dispute about what happened on the night of October 24 last year, when Bachop allegedly assaulted his wife while urging her toward a taxi to go home.
Witnesses who intervened later told police what they saw "said something different".
Further remanding Bachop on bail until tomorrow, Judge Thomas said she was "not closing the door" on any sentencing options.
- APNZ
By Rosaleen Macbrayne