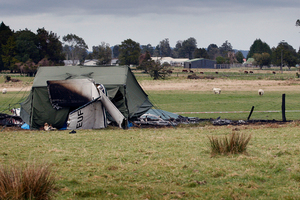 If the Civil Aviation Authority (CAA) does not lay charges relating to the Fox Glacier air tragedy that killed all nine people on board in September 2010, police probably will.
The final report into the skydive plane crash was released last week and sheeted home the blame to the skydiving operator Skydive NZ, the plane's owner and the Queenstown-based pilot, Chaminda Senadhira, who died in the fiery crash.
The Transport Accident Investigation Commission also concluded that the company that had modified the former topdressing plane for parachuting had not followed the correct process required by CAA rules.
CAA spokeswoman Emma Peel said today the authority would respond to the police this week about the possibility of laying charges.
"Police had asked us if we intended to carry out any prosecutions, and we will be getting back to them on Thursday, possibly Friday." She would not say who, if anyone, would be prosecuted.
However, Detective sergeant Jackie Adams of Greymouth police said that if the authority decided not to prosecute, it was likely police would.
"At the moment the CAA is the lead agency in this case and until we hear back from them there is nothing for us to do."
- The Greymouth Star