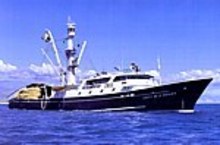 Police have named a 33-year-old Nelson man who was killed after he fell from the deck of the boat he was working on at Port Nelson on Saturday.
Cain Adams died after he fell through the open hold of the Capt M.J Souza at Talley's wharf about 10.15am.
Police said Maritime NZ is investigating the accident.
The victim's colleagues, skipper, police and St John paramedics attempted to revive him but he died at the scene.
Talley's deep sea fishing chief executive Tony Hazlett told APNZ on Saturday Mr Adams was an experienced crew member of the ship, who had worked with the company for five years.
The incident happened when the man fell through a hatch on the ship that gave way, while he was carrying out engineering work.
His partner and children were receiving victim support, said Mr Hazlett.
"Our thoughts are with the families and workmates and we are going to do everything we can to support them.''
He was not aware of any previous similar incident.
Vessel Capt M.J Souza is part of Talley's deep sea fleet and is used to fish tuna, according to Talley's website.
The vessel is based in the Western and Central Pacific for most of the year but during the summer months it returns New Zealand.
- APNZ
By Herald Online staff, APNZ