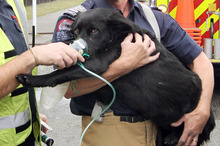 Miley the black labrador had a brush with death today after being rescued from a blaze at his family's Christchurch home.
Firefighters battling the Hornby fire found the beloved family pet lying unresponsive under a bed and suffering the effects of smoke inhalation.
She was carried out of the burning home by firefighter Andrew Corner before he revived her on the front lawn with an oxygen mask.
The poorly pooch was rushed to a vet by St John paramedics, and last night was still under observation but making a recovery.
However, her family are devastated by the blaze which has destroyed their home.
Neighbour Toni Gebbie, 28, said she heard "a cracking noise" and saw flames rising from her neighbour's home.
"I ran into the street and saw my neighbour outside her house. I asked her if anyone was inside, and she said no."
Her sister Nicole tried to calm down her "distraught" neighbour.
"I've never seen anyone so out of her mind, absolutely traumatised. It scared me," she said.
Shortly after the fire was brought under control, firefighters found Miley and acted quickly - a move that saved her life, according to attending St John paramedic Curt Ward.
After dealing with "a human patient and deeming she was okay", he helped resuscitate Miley.
"We aren't trained to treat animals but we help where we can," he said.
A second family dog managed to escape the fire, and was being cared for by another family in the street.
While fire safety investigators scoured the charred remains of the couple's blackened kitchen, Harewood acting fire station officer Steve Heritage paid tribute to his colleague for saving Miley's life.
"Andrew was bloody lucky to find the dog. He did well."
- APNZ
By Kurt Bayer @KurtBayerAPNZ

Email

Kurt