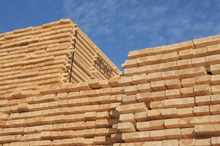 A forestry and timber processing company has been ordered to pay $46,500 after a worker's ankle was crushed while clearing jammed equipment.
Hawke's Bay-based Pan Pac Forest Products were fined $39,000 and told to pay $7500 reparations to a man injured in March last year after being trapped in machinery turned on by a colleague who didn't know he was working close by.
Napier Crown Court heard the Department of Labour found that Pan Pac failed to adequately isolate the hazards associated with the machinery.
"This accident could have been prevented by installing a robust machinery isolation and lockout system, including a high gate to prevent access to the hazard area," said a spokeswoman.
- APNZ