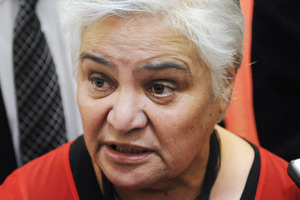 The Mongrel Mob has been linked to a Dunedin charitable trust allegedly given money by the Government agency Whanau Ora.
A four-month investigation by Dunedin police has led to the arrest of 10 men, some with Mongrel Mob Notorious connections.
Four Dunedin men were charged with dishonestly converting $20,000 of trust money, which was linked to Government funding.
The southern police district crime services manager, Detective Inspector Steve McGregor, yesterday said the trust was the "We Against Violence Trust".
He refused to give more details, saying the matter was before the courts "and there are some ongoing inquiries".
The trust was registered in Dunedin in 2001, and was turned down for pokie trust money last year.
Inquiries by the Otago Daily Times to Government agencies led to Whanau Ora - a Maori Party flagship policy aimed at "providing services and opportunities to all families in need".
Whanau Ora Minister Tariana Turia last night said she was aware of the matter.
"My department is looking into this issue, and will keep me fully informed," she said.
"I have been given full assurances that it was unaware of any misappropriation."
Whanau Ora is jointly administered by the Ministries of Social Development and Maori Development.
Last year's Budget allocated $30 million to Whanau Ora, adding to the $134 million over four years provided in 2010.
Attempts to contact trustees of the We Against Violence Trust last night were unsuccessful.