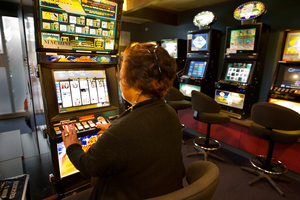 SkyCity has watered down the depth with which it reports on its fight against problem gambling after lobbying the Gambling Commission.
Six-monthly reports by the company show repeated requests to reduce reporting conditions from its Responsible Gambling Programme for its Auckland casino.
The reports are made to the Gambling Commission and are used to monitor SkyCity's obligation to provide an effective programme.
The commission was scheduled to review the programme in 2009, two years after it was set up, but it doesn't expect to begin until next year and relies on SkyCity's own reporting.
SkyCity's efforts to combat problem gambling have come under scrutiny after it emerged as the Government's preferred bidder to win a contract to build a $350 million national convention centre.
The company will pay for the centre if it gets gambling concessions, which include extra pokies, table games and other relaxed licence conditions.
Negotiations have been under way in secrecy for almost a year between SkyCity executives and officials from the Ministry of Economic Development.
SkyCity's reports to the Gambling Commission have shrunk since they began in 2008, from a 47-page report for six months to a 14-page report to cover an entire year.
The change from biannual to annual reporting was also driven by SkyCity, the reports reveal.
The first report from SkyCity in 2008 stated aspects of the programme "need to be reviewed and changed".
Changes it signalled were scrapping a requirement for fortnightly reviews of files about at-risk gamblers. The casino sought the freedom to examine "high risk cases" more often and permission to drop those of less concern.
It later sought freedom from reporting on statistics about gambling which were already published in Ministry of Health papers.
Most recently, it sought to remove the requirement to detail the numbers of gamblers seen on pokies versus table games in its watch-logs. It stated the data was captured by another reporting requirement, although it did not offer the same break-out by pokie machine or table game.
SkyCity told the commission in 2009 it intended submitting a document seeking changes as part of the 2009 review, which was intended to call for input from the public and other interested groups.
But the 2009 review never took place, with the commission relying on SkyCity's reports into its own scheme to know whether it was working.
Commission chairman Graeme Reeves said the intended review would have offered the chance for public input.
However, he said it was not possible until the review was started next year.
WING FLIES OUT
SkyCity has lost its chief operating officer, Stuart Wing, who has quit for "personal reasons" to return to Australia.
Mr Wing has finished after resigning just before scheduled leave. A company spokeswoman said he had "a very significant impact" on SkyCity's performance since he joined last year.