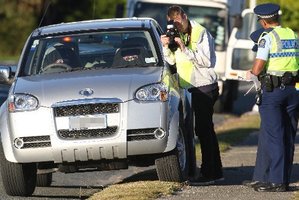 Police investigate at the scene of the accident. Photo / The Daily Post
A Rotorua 5-year-old has been in surgery all morning for serious head, chest and leg injuries, sustained when she ran onto a road and was hit by a vehicle on Saturday afternoon.
Rotorua police say the girl, who was visiting family in Sala St at the time, was initially taken to Rotorua Hospital by St John Ambulance with serious head, chest and leg injuries.
Sergeant Chris McLeod said the girl was later flown by the BayTrust Rescue Helicopter to Auckland's Starship Hospital where she was yesterday reported as binge in a critical condition.
"She's got a broken leg, head injuries and chest injuries,'' Mr McLeod said.
A Starship Hospital spokesman today said the girl had been in surgery all morning, and could not provide an update on her condition until she was out of theatre.
Early investigations into the cause of the incident found the driver of the vehicle, a Tauranga man who was travelling west along the street, was not speeding at the time.
The young girl had run out on to the road and in front of the truck, Mr McLeod said.
"She was standing on the footpath on Sala St next to a furniture truck and ran out, without warning, across the road into the path of [the vehicle].''