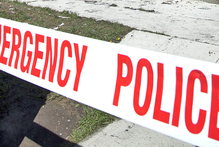 Police have cordoned off a section of the Clutha river near Balclutha and officers in overalls are combing the surrounding banks after the discovery of the body of a young woman today.
The body was found in "unexplained circumstances'' at a riverside jetty in Balclutha this
morning.
It was found at a jetty near View St, Balclutha, in the town's industrial area at about 9am by a person working nearby.
Senior Sergeant Richard Whitmore, of Balclutha, said a police inquiry has been launched in relation to the discovery.
About 500m of riverbank has been cordoned off, as well as the entrance to the riverbank at the corner of View and Jetty streets.
Mr Whitmore said the identity of the woman was not known at this time and police were carrying out some initial investigations at the scene.
He said police were not able to elaborate on the circumstances surrounding the woman's death, but said the circumstances in which she was found at this stage were "unexplained''.

- APNZ