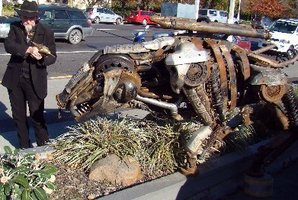 Stories making headlines across New Zealand this morning include a young italian couple caught out allegedly having pooed on a church lawn while helpful locals were trying to extract their stuck campervan, a Gisborne group trying to stop global warming with prayers, and it seems "The GC" crew have last laugh as they point out "any publicity is good publicity."
On the West Coast, a young Italian couple freedom camping behind a Catholic Church got caught out allegedly defecating on a lawn after their campervan got bogged down during their getaway and a car, tractor and digger all got stuck trying to pull them out.
The Mozzie blokes on "The GC" are having a great laugh along with their "aunties" about reaction to the show, because "That's what we want because anyone with a comment is adding to the hype and making it bigger and better." One of those adding to the hype is serious TV producer Sumner Burstyn, who described the show as an "excretal piece of sh*t ."
Maori Affairs Minister Pita Sharples has got them going in the Bay of Plenty after calling for compulsory teaching of Maori in all schools.
May is "Microchip Madness Month" in Rotorua.
A man who took a car from a Gisborne car dealer for a test drive yesterday ended up being chased by cops from Opotiki, Taneatua, Whakatane and Kawerau at high speed before being spiked in Taneatua township and doing a runner into a field where he was arrested.
Mr Gay World 2012 is visiting Gisborne. Meanwhile the Gisborne Interfaith Group is attempting to stop global warming with prayers.
Many people in Wanganui are praying for strong winds, light rain and low cloud tomorrow so ducks are more likely to fly within range of their shotguns.
There is relief in Masterton after Coffee the cat burglar, famous for nicking people's stuff, returned home after going missing and is presumably ready to nick people's stuff again. Meanwhile Oamaru cat Charlie, famous for regularly following owner Agnes Broadley to the shops, has been put into forced retirement at a rest home.
Emotions were running high in Ashburton yesterday at one of the largest public gatherings in years where locals protested the District Council's plans to build a new art gallery-heritage centre.
A poultry farm at Double Hill in Waitati has been described in court as "a death camp for chickens".
After a lunchtime drive, some Dunedin city councillors have come up with a "rather radical" idea to ban most of the more than 500 portable signs used on Dunedin's footpaths to advertise businesses. Meanwhile a local study has found unfit, overweight police officers wearing stab-resistant body armour are potentially putting their lives at risk.
A two-tonne metal boar with rocket-launchers on its back has suddenly appeared in Oamaru.
A Christchurch man who was unable to withdraw funds from his bank account at the Greymouth Credit Union yesterday picked up a chair and smashed the door before storming out.
Top trending topics on Twitter at noon include: #starwarsday, May the Fourth, #newNZ, TV One, #ThatsWhatIHate, Galaxy S III, TVNZ7, IPO, Samsung and #Fairtrade.