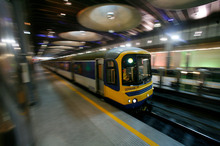 Passengers on an early-morning train in Auckland yesterday were jolted wide awake by an on-board explosion and fire.
Although rail operator Veolia initially said there was a "small fire" in the unstaffed driver's cab of a train at or near Orakei Station on the eastern line, a photograph taken by an alarmed passenger showed smoke billowing from a fierce-looking blaze.
"I heard a loud bang and could smell smoke," said the woman, who was one of only five passengers on the train which left Britomart at 6.30am.
"Looking to the back of the carriage I saw the smoke was not far, so jumped off the train."
Moments after she took the picture of the fire from the platform, train staff "dealt to the blaze" with extinguishers.
"Thankfully no one was hurt," said the passenger, who did not want to be named. "However, I believe if there were more passengers closer to the area, this would not have been the case."
Veolia spokeswoman Michelle Roach said there was a small fire in an unoccupied cab of the two-car diesel multiple unit (DMU) train at or near Orakei Station at 6.38am, which was "caught quickly and extinguished".
"The scene was isolated as per our normal safety procedures," she said.
"A diligent staff member saw the smoke, identifying the fire early, and evacuated the train before extinguishing the fire."
Ms Roach said taxis were called to take the passengers the rest of the way to their destinations, and there were only very minor knock-on delays to other morning rail services.
She said Veolia had identified the likely cause of the fire, and would work closely with KiwiRail, as the train's maintenance contractor, to guard against risks of similar incidents.
Auckland Transport spokeswoman Sharon Hunter said early identification of the cause by Veolia suggested it was not a mechanical or component failure, but a bag being left too close to a heater.
By Mathew Dearnaley

Email

Mathew