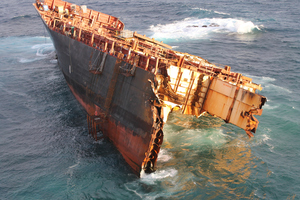 Plastic beads, noodle packets and a dozen wheelbarrows have made the 180km journey from the Rena to the beaches of Great Barrier Island.
Braemar Howells, the company co-ordinating the clean-up of containers and debris from the stricken cargo ship, is arranging a clean-up team to head to the island - the most northerly point debris from the Rena has been found.
Bad weather and stormy seas had gradually smashed the ship to pieces since it ran aground on the Astrolabe Reef off the coast of Tauranga on October 5 last year.
Debris at Great Barrier Island, which also included a small amount of timber, washed up in the wake of a heavy storm last month that also resulted in the littering of parts of the Coromandel coast.
Braemar staff working on the peninsula would widen their focus area to the island and a clean-up team was due to reach the island over the next few days.
Great Barrier Island local board deputy chairman Scott Mabey told the Herald he had stacked up 10 wheelbarrows that washed up on the beach near his property on the northeastern side of the island.
But he said the impact to the island had been minimal compared with the disaster's effect on the Bay of Plenty coastline and nearby Matakana and Motiti islands.
It emerged yesterday that the Rena's captain and navigational officer had met iwi leaders on Motiti and in Tauranga to formally apologise as part of a restorative justice programme they are undertaking in the lead-up to their sentencing this month on a number of charges laid after the disaster.
Mr Mabey said: "They certainly well deserve an apology, but we just haven't seen the same impact - and hopefully we never will."
Auckland Central MP Nikki Kaye, whose electorate includes Great Barrier Island, said she would look into the issue.
"Great Barrier Island is one of the most beautiful islands in the Hauraki Gulf and I will be speaking to the local board to ensure the appropriate response is being made."
Braemar operations manager Neil Lloyd meanwhile said the company was focusing clean-up efforts on areas where there was a risk debris could be refloated on incoming high tides.
Bundled lots of debris were removed from Matakana Island this week as beach surveys there continued.
Beads on its beaches were being scooped up with help from portable vacuum equipment modified for use in sandy areas.
The number of containers recovered and brought to shore by the company stood at 768, but Braemar spokeswoman Monique Balvert-O'Connor could not say how much longer the clean-up operation would last.
"It is fair to say the Rena owners are supportive of Braemar's clean-up operations to date and committed to the continuation of this operation until a satisfactory end result has been reached."