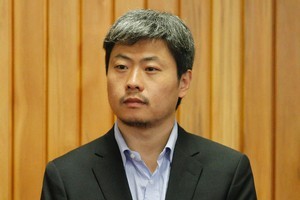 A man dubbed the "runaway millionaire'' has made an application to vary his bail conditions.
The case against Leo Gao, who faces 17 charges of theft of almost $6.8 million, including one joint charge with Kara Hurring, and 10 charges of money laundering, was called in the High Court at Rotorua today.
Lawyer Vanessa Withy, appearing on behalf of Gao's lawyer Ron Mansfield, asked for the terms of Gao's bail to be varied but the application was dismissed by Justice Paul Heath.
Gao was previously ordered to surrender his passport to police and to avoid contact with Hurring, his former partner.
The charges relate to offending alleged to have been committed between April 24 and May 5, 2009 in Rotorua and Auckland.
Gao had applied to Westpac for a $100,000 overdraft for his struggling BP petrol station but the bank accidentally transferred a $10m overdraft in to his account.
When he realised the error he allegedly skipped the country.
Hurring, and the mother of his child, followed days later.
Gao is accused of transferring almost $6.8 million of Westpac's money into several accounts before fleeing overseas.
About $3.7m is still missing.
The couple's disappearance sparked an international manhunt involving Interpol and other overseas agencies.
Gao was arrested in Hong Kong last September and was returned to New Zealand just before Christmas. He did not oppose being extradited and was remanded in custody.
Hurring, 32, was arrested when she re-entered New Zealand earlier last year. She faces trial this month.
For more articles from this region, go to Rotorua Daily Post