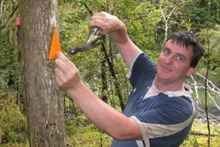 Police remain hopeful a skipper and a crewman survived the sinking of their fishing vessel in Doubtful Sound, as they resume a search for the pair this morning.
Bruce Robert Gordon, 42, and his crewman Darren James Allen, 37, both of Te Anau, were last heard from at 8.15am on Monday when they set off to go fishing.
The semi-submerged hull of their crayboat K'Cee was found offshore from Doubtful Sound at dusk yesterday.
Police said they still held hopes the men were alive as an inflatable life raft and aluminium dinghy that were on board the vessel had not been found.
Six vessels and three helicopters were continuing to search 400 square miles around where the K'Cee's hull was found off Secretary Island this morning, police said.
Three NZ Police Dive Squad staff were set to arrive in Invercargill to assess whether it was safe for them to join the search.
Southland area commander Inspector Lane Todd told Radio New Zealand an Air Force Orion searched a 640 km area of the sound over four hours overnight.
He said a "minor matter" came up on a radar during the flight, and a helicopter would investigate it further at first light.
Mr Todd said weather conditions are good in the area, and a full day of searching is expected.
The pair are understood to be experienced fishermen who knew the area well, he said.
Mr Todd said given the damage sustained on the bow it appeared there had been a "major impact".
Those who know the pair hope they made it to Secretary Island.

By Herald Online staff, APNZ