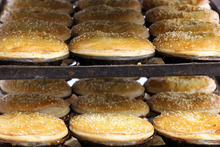 Thieves who stole hundreds of pies from an Oamaru bakery could find their haul too hot to handle.
Police are baffled why the culprits were so greedy and have warned people to be on their guard if they are offered a large quantity of pies on the cheap.
The thieves ignored other foodstuffs when they targeted Coupland's Bakery at the weekend.
About $850 worth of pies were taken.
Community Constable Bruce Dow asked the obvious question: "Why would anyone take that many pies?"
He speculated the offender might have become a bit greedy but wondered why they would have taken more pies than they could possibly eat.
"You could freeze them," he said. "But that many pies would take up a fair bit of space in the freezer."
The savories vanished on Sunday when someone unscrewed the hinges of a refrigeration unit behind the Thames St bakery.
Coupland's head office would not comment on the theft but according to the Christchurch-based company's price lists, $850 could translate to about 566 pies from the classic range or 340 pies from the premium range.
Keen to find the offenders, Mr Dow added: "It would be a shame to see so many pies go to waste."
He thought those responsible for the break in would have needed a vehicle to carry out the pies.
The noise from the refrigeration unit might have masked the sounds of the unit being forced open, he said.
He asked members of the public to report any information about the theft or any suspicious activity in the area and get in touch if offered a large quantity of pies.
Mr Dow could not recall any occasion when such a large amount of foodstuffs had been taken.
"We should look for someone who has been stealing the tomato sauce," he said.
Call Oamaru police on (03) 433 1400 if you can help.
By Jonathan Chilton-Towle of The Oamaru Mail