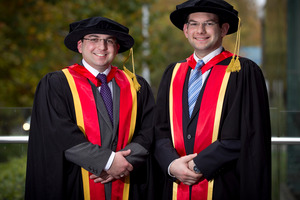 There were plenty of jokes in the Namik family from two brothers who graduated yesterday with engineering doctorates from Auckland University.
Salim, 28.5 - he likes to be as precise as he can be - and Hazim, 27, who migrated to NZ with their parents from Iraq in 2001, were happy to be done with official study.
Hazim, who is working in Texas doing research on floating wind turbines, said the past 4 years had been exhausting.
"PhD stands for 'Permanent Head Damage'," he joked.
Both Namik boys ended up in the same academic year because Salim had to do an extra year at Takapuna Grammar to qualify for tertiary study.
A university spokeswoman said it was rare for brothers to graduate at the same time with PhDs, and to add to the celebrations for the family, the brothers' sister, Hana, will also graduate tomorrow, with a bachelor of science degree.
Salim, who hopes to get a job in the communications industry, said it was a badge of honour for his little sister to break the mould - their uncles are engineers and their father is a civil engineer.
He thanked his parents who suffered hardship under Saddam Hussein's regime and made the decision to leave Iraq and give their children brighter opportunities.
The breaking point for leaving Baghdad, first for Dubai and then New Zealand, was their father's very low monthly salary.
This week, 6862 graduates receive a total of 7048 qualifications, including 165 doctorates, at 10 ceremonies.
At 9.30am tomorrow and on Friday, more of the graduates will parade along Princes St, down Bowen Ave, into Victoria St East and up Queen St for ceremonies at the Aotea Centre.
Around 17,000 guests have tickets for the ceremonies, each of which is being webcast live.
- staff reporter