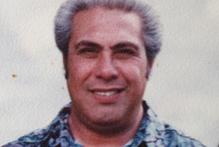 A Lower Hutt bus driver who died while on the job on Friday night has been remembered by his son as a "genuine gentle giant".
The circumstances of Herman Curry's death remain unclear after police initially treated his death as a homicide but later said a post-mortem examination found there was no evidence of injuries consistent with any type of assault.
The 64-year-old father of four adult children was found unconscious beside his bus at the Waterloo bus depot about 10pm Friday night with serious head injuries.
Ambulance staff performed CPR but he was pronounced dead at the scene.
His cash box, with about $40 in it, was missing and police launched a homicide investigation which centred around finding the missing box.
Yesterday the cash box was found after four people handed themselves into police.
A 17-year-old man and a 20-year-old man will appear in Lower Hutt District Court tomorrow charged with theft of the cash box.
Two others, aged 15 and 16, have been referred to Youth Aid.
About 30 staff are still working on the investigation.
On Facebook last night Mr Curry's son, Jeremy Curry, remembered his father as a good looking and caring man.
"I want to be like him when i grow up.
"Big H, you are one of this worlds genuine gentle giants.. Your presence is sorely missed," he posted.
Mr Curry's niece, Paese Leone Andersen Curry, said it was Mr Curry's "laugh and your big smile" she would always remember.
Questions about bus driver safety were raised following the death, with the Tramways Union calling for a government review similar to one which resulted in taxi cameras becoming compulsory after Hiren Mohini was stabbed to death by a passenger in Auckland in 2010.
But yesterday Ministry of Transport land transport safety manager Leo Mortimer would not be drawn on whether an investigation would be launched.
Issues around bus driver safety had been raised in the past but Mr Mortimer said the Government found it was something the bus companies themselves, regional councils and the funding body should work together on.
Legislation did not prevent buses from having cameras, he said.
"I guess you could say that it's the Government's role to ensure that there is no legislative areas to them implementing the measures that they think would be needed and I think that at the moment there is nothing to stop any company from putting cameras in vehicles."

- APNZ