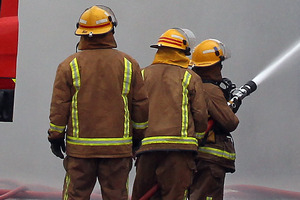 A teenager has been taken to hospital with severe burns following a fire at a Rotorua house overnight.
The 15-year-old suffered burns to 70 per cent of his body after a fire engulfed a house on Meadowbank Cres in the Rotorua suburb of Fordlands just before midnight on Saturday.
He was taken to Rotorua Hospital and then flown to Waikato Hospital for treatment.
Rotorua Fire Service Acting Senior Station Officer Joe Pope told The Daily Post at the scene early this morning there were multiple calls to 111 just before midnight to report the blaze.
It was reported there was one person seriously hurt and possibly three others, including children, trapped inside the house.
TVNZ reported on its website there had been fears a baby was missing in the house, but it was found and taken to Rotorua Hospital for a check-up.
The house, down the rear of a driveway, was well involved when firefighters arrived and collapsed not long after, Mr Pope said.
After the fire was extinguished, it was discovered the occupants of the house had managed to get out, Mr Pope said.
"We had one person outside of the house with severe burns to 70 per cent of his body. He has been taken to Rotorua Hospital by ambulance,'' Mr Pope said.
The three bedroom house, which was occupied by two adults and two children, did not appear to have smoke alarms, he said.
It took three fire crews, including two from Rotorua and one from Ngongotaha, totalling 12 firefighters to get the blaze under control.
Meadowbank Cres was blocked off to through traffic for safety reasons while emergency services worked at the scene.
Mr Pope said it was too soon to determine the cause of the fire.
"From a fire safety point of view it is timely to remind people to make sure their homes have working smoke alarms, especially with the onset of winter. There were no smoke alarms in this house that we are aware of because normally you would hear them when you arrive.''
A Rotorua police spokesman said CIB detectives were investigating.
- APNZ