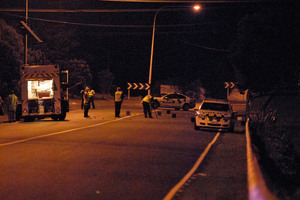 A man is fighting for his life in hospital after he was injured in a gruesome hit-and-run last night.
The 35-year-old was crossing Glenfield Rd when he was struck just after 6pm.
Residents tried to stem the heavy bleeding from the man's head until ambulance officers arrived.
Police said they were looking for a navy blue Ford Falcon SR6 saloon seen leaving after the incident.
The car had sustained a smashed windscreen on the driver's side, and police said witnesses had given them strong leads to locate the vehicle and driver involved.
St John Ambulance spokesman said the man was taken to Auckland Hospital in a critical condition.
Local resident Andrew Rutland said his daughter Amy, a nurse at Waitakere Hospital, helped treat the man after finding him lying in the road.
"She was just trying to stop the blood," Rutland said. "They wrapped blankets around his head and offered basic assistance.
You can only hope that it helped."
Local resident Jaydene Kukard said the a tight corner and fast-flowing traffic near the crash spot made it dangerous.
"I've seen people crossing the road while people are gunning it around the corner," said Kukard.
"I do think they should do something about it."