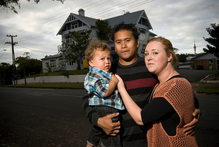 A century-old facility for young, frightened mums and their babies faces demolition.
The Bethany Centre, a Salvation Army home, goes to sale by tender on May 7.
The pending loss of the building comes at a time when teen pregnancies are trending downwards in the region. But pre-teen pregnancies have been increasing.
For teen mum Elizabeth Sayegh, the Bethany Centre was a light at the end of a tunnel.
The young West Auckland girl had been raised by Catholic grandparents and was 15 when she fell pregnant.
"There is so much going on at that age so it was really overwhelming to be pregnant," said Sayegh, now 18.
The Bethany Centre and the Teen Parent Unit attached to Henderson High School provided support for her, but more needed to be done to help teenage mums struggling with their responsibility, she said.
"Apart from Bethany, the support is not there, especially not in one place that is easy to access."
There are more than 350 births to teens in West Auckland each year but only 20 places at the Teen Parent Unit. The other three units in Auckland face similar problems.
Sayegh defied the odds against teen mums and passed her NCEA exams while pregnant.
She is now studying towards a Bachelor of Music at Auckland University, majoring in classical performance.
Sayegh was upset Bethany had closed and surprised to hear it was not a protected building.
Colin McKenna of Bayleys Real Estate said most interest had been from those keen to demolish the existing buildings and build seven houses on the 3363sq m site.
"It's the single biggest land offering in Grey Lynn - there is not another of that size."
The Dryden St property has a CV of $2.8 million and the main house, built in the early 1900s, has a floor area of 1218sq m. Other buildings on the site were added in the 1960s.
Auckland Council heritage manager George Farrant confirmed the building was not protected.
Anyone could apply for a building to be protected, but it still had to meet certain criteria to do with age, architecture, construction and unique history.
Gerry Walker of the Salvation Army said a similar but more modern home would be found in West Auckland, where many Bethany mums were from.
"The house was state of the art when it was built but it doesn't suit our needs now," Walker said.
"We want something that is more like the homes these young girls come from and it will be in the community in which they live."
By Kirsty Wynn