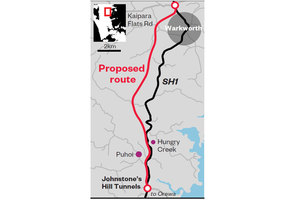 About 50 landowners have been told their properties will definitely be needed for a Puhoi to Warkworth motorway, but the Transport Agency has backed off from a start date.
The Government organisation yesterday announced a "preferred" route for the 18km link, for which about 10 fewer properties will be needed than previously estimated.
Despite that, it will be much the same as an "indicative" route announced late in 2010, and will end next to the showgrounds just north of Warkworth, although it will be slightly further west in places.
But northern highways manager Tommy Parker was unable to confirm a previous start date of 2014, saying that was now subject to a funding decision in August - even though the project retained priority as one of the Government's seven "roads of national significance".
Nor is the agency committing itself to a second stage, to reach a further 20km to Wellsford, in view of uncertainty about building a new road through difficult ground conditions.
Mr Parker said that although its preferred option remained a four-lane motorway separate from the existing section of State Highway 1, it was also considering retaining Dome Valley as the main route north, but with "on-line" safety improvements.
Although the estimated cost of the Puhoi-Warkworth stage has been reduced from $980 million to $760 million, the Wellsford extension has risen from $670 million to $1 billion.
That has pushed the overall estimate from $1.65 billion to $1.76 billion, and reduced the predicted economic return for the full route to just $1 for each $1 invested.
The previous prediction was $1.10.
Although the Transport Agency estimated a healthier return of $1.50 for each $1 to be spent on the first stage, Mr Parker could not give a figure for the Wellsford extension, saying the costs were "too high level" - meaning not well enough defined.
He said many of the benefits would be for bypasses of Warkworth and Schedewys Hill north of Puhoi.
One property owner still in the way, Marie-Louisa Noom, said she understood some neighbours in the Perry Rd rural subdivision south of Warkworth were now off the hook.
Although she would be disappointed to lose the home she shared with her husband, Adri, she was at least relieved that the period of uncertainty that had been "wearing us down" had ended.
Even so, she still had no idea when the Government would begin property purchase negotiations.
Despite the upheaval, Mrs Noom said she believed a new motorway would be important for the development of Northland.
"They call it the holiday highway, but it definitely isn't," she said.
As a former Kerikeri resident, she was acutely aware of a need for a better road than the existing two-lane route to get goods to market.
Mrs Noon said Northland needed to be "opened up".
"It's a beautiful place north of Wellsford and they could do lots of things, but not if everything has to come through this narrow neck around here."