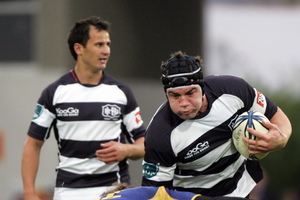 Dunedin Mayor Dave Cull has been threatened with legal action by members of the Otago Rugby Football Union board over comments he made following the bail-out of the union.
Individual members of the board have contacted Mr Cull, seeking an apology and threatening legal action if he does not, the Otago Daily Times has learned.
That followed comments made by Mr Cull during an interview with Radio New Zealand on March 15, the day after the council agreed to wipe the $480,000 owed to it and Dunedin Venues Management Ltd by the ORFU.
The deal was part of a rescue package also involving other parties designed to save the struggling union from the threat of liquidation.
Mr Cull would not comment when contacted yesterday, telling the ODT "prudence" meant he could not even confirm whether legal moves had been initiated.
"I would be aware of the public interest in anything like this, clearly, but I'm not commenting on it."
ORFU chairman Wayne Graham was also reluctant to comment, saying he didn't know "a lot about it".
However, any claim by individual board members would be a "private matter" for them, and was nothing to do with the ORFU board as a whole, he insisted.
The ODT sought comment from all board members yesterday. Most were reluctant to comment, although one confirmed he was aware of the threat of legal action before declining further comment.
ORFU president Eion Edgar, vice-president Adrian Read and former deputy chairman Laurie Mains could not be reached for comment yesterday.
Council chief executive Paul Orders declined to comment.