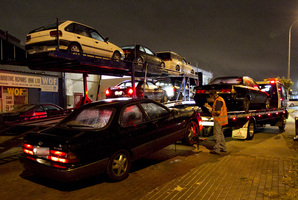 The police arranged for the cars being held at East City Towing in Pakuranga to be uplifted last night and taken to another towing company. Photo / Natalie Slade
The owner of a tow-truck company is to face court action over allegations he took a car for a joyride after it was impounded for boy-racing.
Police yesterday charged Michael Woods, who runs East City Towing under the name Mike Holliday, with unlawful conversion of a motor vehicle.
They also arranged for about 20 cars to be towed on their behalf from East City Towing's yard after the company was taken off the force's on-call towing roster.
Police launched their investigation into the company after the Herald last Wednesday published a complaint from a woman that her car was driven at high speeds without her permission after it had been towed.
The woman, who wanted to be known only as Nicky, formally complained to the police after checking her Snitch GPS system.
The device tracked her $12,000 Nissan Silvia's movements after it was taken from her in the small hours of Sunday morning for boy-racing activities in Mt Wellington.
The records showed her car was taken out of East City Towing's Pakuranga Heights impound lot in Cascade Rd at 2.30am - not long after it had arrived.
It was driven around Ben Lomond Cres, reaching speeds of more than 100km/h, then returned to the lot, before being driven further up Cascade Rd where it again reached more than 100km/h, according to the Snitch report given to the Herald.
The car reached 113km/h in the 2.7km it travelled. Ben Lomond Cres is a 50km/h zone and the Cascade Rd stretch driven that night is 60km/h.
Snitch director Jeremy Mclean said the speed and movement data was "100 per cent accurate".
Yesterday, Detective Inspector Mark Gutry confirmed police had charged the 48-year-old owner of East City Towing with unlawful conversion of a motor vehicle.
"Basically it's the taking of a car which is in your possession legally to start with and you use it for your own use," Mr Gutry explained.
Woods is due to appear in court next week.
Conversion of a vehicle or other conveyance can be punishable with up to seven years' imprisonment if the defendant is convicted.
Last night, police agents removed about 20 cars from East City Towing's yard and took them to Southern Districts Towing, which has a contract with the force.
East City Towing has also been removed from the police's on-call towing roster - which had allowed them to impound cars on their behalf - until further notice.
A woman at East City Towing who identified herself as Mel told the Herald last night: "No comment."
Nicky said she never expected her complaint would lead to Woods being charged, but was very pleased that he had been.
"I didn't even know what could have happened, what would have happened or what has or can't ... It's definitely good that he's going to court and the police have done something about it instead of just leaving it," she said last night.
She said when she bought the Snitch GPS, she never thought she would have to use it for this reason.
"But I'm pretty glad that it's in there now."
Nicky said she was considering going to court because she was "quite interested to see what will happen."
JOURNEY OF THE IMPOUNDED CAR
* Police have charged the owner of the company over allegations that he went for a joyride in a car that had been impounded for boy-racing. The car reached 113km/h in the 2.7km it travelled.
* 20 cars were removed from East City Towing last night.
* The tow firm has also been removed from the police's on-call towing roster.