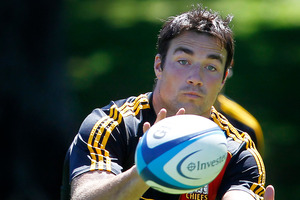 The cash-strapped Waikato Rugby Union is planning a series of community fundraising efforts - including an event with high-profile All Blacks - to tackle its historic debt.
The first fundraiser is a sell-out rugby dinner and community auction being held at SkyCity tonight in an attempt to reduce the union's $1.51 million debt.
Last year, the union racked up $1.2 million in loans - from Hamilton City Council, Gallagher Finance and Management and the New Zealand Rugby Union - just to keep afloat and it is now looking at fast ways of paying it back.
Hamilton CIty Council is receiving 7 per cent interest on its $500,000 loan due to be repaid at the end of next year and the New Zealand Rugby Union is due to have $454,000 repaid by June, 2016.
Tonight, former All Black Buck Anderson, Waikato-based All Black Richard Kahui and former All Black coach Wayne Smith will speak during the dinner and there will be an auction.
Waikato Rugby Union community engagement manager Bill Heslop said they had a target of raising $60,000 from the 35 donated items being auctioned, which include accommodation for seven people at a luxury resort, a V8 hot lap, a service from one of the Cambridge Stud stallions and the chance of photographing an All Black match.
There will be a mix of live and silent bids at the auction, which had been planned for about seven months and was to have been held before the Rugby World Cup.
Mr Heslop said this was the only fundraising effort he was involved in for the union, but it would not be the last attempt to raise money.
In Dunedin four weeks ago, KFC raised $30,000 to help the Otago Rugby Union pay back its small creditors by donating $5 from every Double Down burger sold at its three stores in the city on March 31 and April 1.