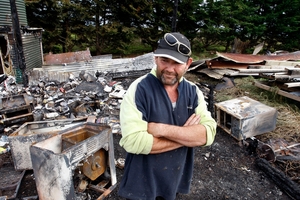 A young Whangarei family's dream home has been destroyed by arson before it has even been built.
Firefighters were called to a Draffin Rd property, 20km west of Whangarei, about 6.50pm on Saturday after a shed was deliberately set on fire. Their efforts to douse the blaze were hampered by a lack of water and all of the building material inside, which was destined to form a family home, was destroyed.
A devastated Brett Fowlie was sombre as he sifted through the ashes yesterday, pointing out fire destroyed tiles and flooring wood he had envisaged would be a feature of his new family home.
He has spent the past five years collecting building materials so he could build a home on his wife's property at Matawaia, 20km northeast of Kaikohe. Mr Fowlie's plan was that his wife and three children, aged 5 and under, would be in their new home by Christmas. They planned to clear the building site next week.
"We're not rich but we just want a good home for our kids," Mr Fowlie said.
"Most of the stuff we bought cheaply off the internet and watched out for specials. Gradually, we've been getting it all together."
Along with a stove, fridges and a television, there were precious baby photos that were destroyed. The last item to be put in the shed was a potting wheel, an interest his wife wanted to develop when they moved.
A double blow for the family is that they had no insurance.
"You go to work and make money to get a better life for the family and then this happens."
The first thing Mr Fowlie knew of the fire was seeing flashing lights drive past his house as he cooked tea for the children.
He then realised the shed, about 200 metres from his rented home, was on fire. "There were flames and firefighters everywhere."
His wife rushed home from a meeting at the local marae to look after the children, while Mr Fowlie could only stand and watch as his dreams went up in smoke.
"We'll probably start again. What else can you do?"
Fire investigator Craig Bain said the fire had been deliberately light at the rear of the shed. Detective Shane Pilmer yesterday confirmed police were investigating the arson and said anybody who saw suspicious activities or vehicles in the area could contact him on (09) 430 4500.
For more articles from this region, go to Northern Advocate