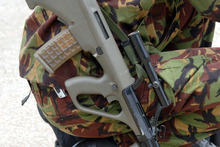 A visiting British soldier has been shot in the foot in a shooting accident at Tekapo Military Training Area, in South Canterbury.
The New Zealand Defence Force said a visiting group from the 2nd Royal Gurkha Regiment appeared to have discharged his weapon, injuring another Gurkha soldier in the foot.
The injured soldier was treated at the scene and has been taken to Timaru Hospital.
At this time the extent of the injury to the person is not known, although it is believed the injury is being treated as minor.
The regiment are in New Zealand participating in Exercise Pacific Kukri.
- HERALD ONLINE