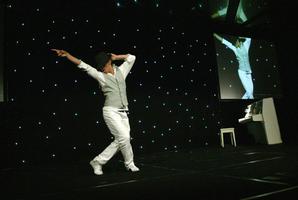 The former winner of New Zealand's Got Talent is amazed the TV show is returning after it was branded a flop first time around.
Dancer Chaz Cummings was just 16 when he won the first Kiwi version of the worldwide reality phenomenon in 2008 - and pocketed $100,000 prize money.
The programme was canned after just one series on Prime. Even the channel's owner Sky Television admitted the show was a "mistake" after it cost more than $4 million to make and failed to attract viewers.
But in eight days' time, a nationwide series of auditions for a new version of New Zealand's Got Talent begins in Invercargill. The series will be screened on TV One later this year.
"When I heard the show was coming back I thought 'wow' but I was very surprised indeed," said Cummings, 19.
"When it was announced there wasn't going to be a second series I thought I would be the only winner - for good."
Down-to-earth Cummings still lives with his parents in Lower Hutt and couldn't care less that his TV triumph hadn't propelled him to instant stardom. Instead, he gives $5-a-pop Zumba lessons at community centres and local school halls.
"When I won my mum said to make sure my head never got too big to fit through the door," Cummings said. "But I never entered to become a star, I just wanted to show people what I could do.
"I would advise the winner of the 2012 version not to get too carried away or have unrealistic expectations about the future and they'll be fine."
Cummings admitted although his brush with fame was brief, winning the $100,000 had transformed his life and set him up as a dance teacher. He also planned to open his own studio.
"I never had any money before so winning that amount was a real turning point," he explained. "I paid for myself to go to the best dance school in Australia to become an instructor and put enough cash away for later on."
Cummings said his Michael Jackson-inspired moves were a big hit with women but he was never tempted because he had a girlfriend.
"Look, but don't touch, was my rule," he explained.
Cummings will watch the new series of NZ's Got Talent with interest. However, he is dreading that a similar act to him wins because comparisons would inevitably start.