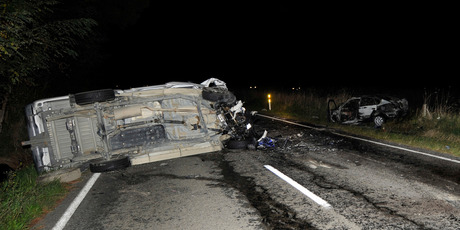 A woman who lost her mother and young daughter when the car they were travelling in burst into flames in a gruesome head-on smash has spoken of her family's devastation.
Hayley Goodall, 20, and her grandmother, Juanita (Nita) Raikes, 81, were killed when their car collided with a ute just north of Te Karaka, about 30km inland from Gisborne, at 5.15pm on Friday.
Their car burst into flames after the impact, and passersby desperately tried to pull both women from the wreckage.
Through tears yesterday, Hayley's mum Claire Goodall paid tribute to her daughter, adding that their whole extended family was hurting.
"It's not just me, it's our whole family [that is devastated]. She was just a good girl.
"We're still thinking that Nana is going to come over and we're going to have to tell her about Hayley."
Hayley Goodall loved cars and was an accomplished driver who had her full licence.
"I was just as comfortable with her driving - she wasn't a hoon.
"Hayley had hopes and dreams for the future. She was an optimist." She had been applying for jobs around Gisborne and helped out her brother after his Tauranga home had been affected by fire.
Claire Goodall said that her mother was very energetic for a woman in her 80s.
"I'm going to miss the hell out of them," she said.
Nita Raikes had just been to visit her great-grandson Noah Goodall-Hart in Tauranga for the first time. She had taken the opportunity while in the Bay of Plenty at a family funeral and the pair were on their way home to Gisborne.
The driver of the ute, a 46-year-old man, was taken to hospital with moderate injuries. He was seen walking after the accident.
The Paringahau Station manager's wife, Donna Hargreaves, was working in a paddock nearby when the accident happened.
She saw smoke, heard voices and went up to the road where a woman was stopping traffic.
"There were already some cars either side of the accident and she was asking for a fire extinguisher and said people wanted an axe. She asked if I lived nearby, and I said yes but it was on the other side of the crash."
Hargreaves was with her 6-year-old son and they hopped on their quad bike and went through a paddock past the accident scene.
Hargreaves said she grabbed the axe and fire extinguisher and raced back down where a man took them from her.
"It was only a few minutes later when the fire engine came so they got there pretty quick, but apparently it was too late.
"It was pretty bad. It was quite a shock. You just try and help but apart from getting the fire extinguisher there wasn't a lot we could do really. For the car on fire it was too late and you don't have long when it's a flame like that."
The accident closed a portion of SH2 north of Te Karaka for more than three hours.
- Additional reporting: Gisborne Herald
By Chloe Johnson @BackpackJourno

Email

Chloe, Sophie Rishworth