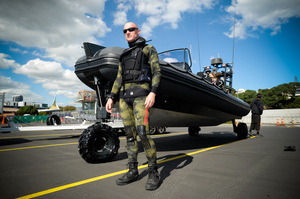 Our favourite fish are about to get some high-tech support in faraway places.
Controversial adventurer Pete Bethune, formerly of Sea Shepherd, took his new anti-piracy boat to the Waitemata Harbour this weekend.
Gear on the amphibious 7.7m Sealegs vessel included locally made night vision cameras and sophisticated radar systems. A large mount at the front could hold a high-calibre gun or cannon if needed. "There's $100,000 in electronics sitting up in the masthead," Bethune said.
The technology would help Bethune's crew of former special ops soldiers challenge illegal fishing boats.
Bethune said popular local food and sport fish including marlin, trevally, toothfish and tuna were all under threat from poachers. Migratory fish plundered in distant seas would affect local fishing. Bethune said the annual marlin catch in the Bay of Plenty had plummeted over the past decade.
The Earthrace Conservation team will put the boat through its paces and practise boarding ships this month. The Sealegs will be shipped to Africa on June 1 for a three-month campaign.
Bethune polarised public opinion after Sea Shepherd's anti-whaling superboat Ady Gil sank in February 2010. Bethune said philanthropist Gareth Morgan refused to donate to Sealegs, saying he would not give money to "mercenaries".