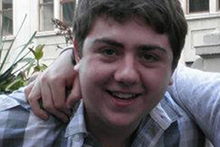 At night, while most of Auckland is asleep, empty parking lots and quiet roads become the playground - and training ground - for many longboarders.
Longboarding is the little-known sport that is growing quickly among young New Zealanders and was thrust into the spotlight this week when teenager James Eising was killed in an accident during a competition on the North Shore.
The Weekend Herald has been told it could be the first longboarding death in a race, and messages of support have poured in from longboarders around the world.
James was farewelled by hundreds yesterday at Sacred Heart College chapel in West Tamaki Rd. Mourners, many of whom were former schoolmates, performed a haka as his coffin was carried away.
Near the coffin were two longboards James had made himself that were covered with signatures and messages from the Auckland longboarding community.
For many, longboarding is seen as a dangerous sport that is an irritant to other road users. But the many mainly young men who are passionate about it hold a different view.
Mike Thornton, an organiser of the event James died in, said previous antics by longboarders had provoked bad press and infuriated many.
"That obviously brought a lot of kerfuffle in the community because a lot of them felt judged by the public because of that set of actions and not everyone is like that."
About 700 make up the longboard community nationwide and 200-300 in Auckland - many more than the dozens of only five years ago.
"They're small numbers but they're growing rapidly ... I think in many ways we follow the trends overseas ... There's a whole gravity sport movement right around the world, and longboarding is part of that scene," Mr Thornton said.
The average longboarder is a young man in his teens or early twenties, but there are a few females and older riders too.
"In many ways it's a social activity. It's more fun done in a group, and isn't a team event, but like a lot of these sorts of disciplines you tend to advance your skills better when doing it with others - particularly others with a higher skill level."
Mr Thornton said there were kids out there who "felt bad" if they hadn't skated in a day.
"These aren't all wild kids going out there to raise hell and be punks - they generally just want to challenge themselves and partake in discipline, not to upset people or get in their face. But where else do you do it apart from a road?"
Carparks were popular and he thought there would be quite a lot of late-night or early-morning runs in carpark buildings across Auckland. When he first began longboarding he used to head out at midnight or later.
New developments or subdivisions were also popular places for riders to "go and build confidence".
Joseph "Speedy" Karchemny, 35, also rejected the notion longboarders were all daredevils looking to cheat death."The frustrating thing is we can be viewed as young punks who don't care about anyone else on the roads, which isn't true."
A common complaint from drivers was it was hard to see longboarders coming round the corner too quickly and not expecting them - but that was also true for cyclists who were legitimate road users as well.
They were often cut off by drivers, especially in Auckland, and he lost track of how many times buses pulled out in front them.
He agreed the community was tight, almost like a family.
"We all want everyone to be good - there's no attitude. We strive for safety [and] helmets are important for us and quite a major topic."
Longboards
* The average longboard is 69-96cm.
* Skateboards are more symmetrical and have smaller and harder wheels.
* Trucks which direct longboards are wider and the wheels are wider, taller and softer because of the board's different uses.
By Andrew Koubaridis @A_Koubaridis

Email

Andrew