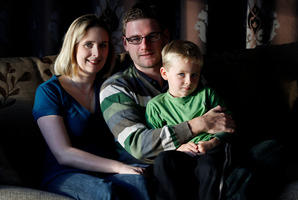 A couple whose baby died during a horrific birth, leaving the mother unable to have more children, are expecting another child.
Through a surrogate mother and in-vitro fertilisation, Robert and Linda Barlow have defied the odds to create a new child. Their baby is due next month.
"We're really, really excited about baby coming," Mr Barlow said. "We're just at the stage now where we just need baby to be here."
The child is genetically theirs but because Mrs Barlow had to have an emergency hysterectomy during the delivery of baby Adam in 2009, she can no longer carry a baby in pregnancy.
The Barlows claim the inexperience of the midwife, who they found out later had graduated only seven months earlier, was a major factor in the disastrous outcome. Adam died and Mrs Barlow suffered a stroke and cardiac arrest during the birth. She was not expected to live, and has permanent bladder damage.
Early in 2010, the Hamilton couple went to Fertility Associates to find out if they could have another child.
"We wanted to know if that was going to be a possibility in the future," Mrs Barlow, 34, said.
Mr Barlow, 33, said they knew they weren't ready at the time, "but we knew that the process could take quite a few years and we didn't want to start the process in a couple of years' time.
"It wasn't that we'd just lost Adam and three months later we were looking to replace him. We needed some answers for our family's future."
They also wanted their son, Orry, now 5, to have sooner rather than later the "living sibling" he had cried for.
After the couple told friends of their plans to undergo IVF and use a surrogate, a woman they knew approached them and offered to be their surrogate. The woman, who wants to remain anonymous, has a family of her own.
The Barlows, the surrogate and her partner had medical tests and counselling sessions.
They then had to apply to the Ethics Committee on Assisted Reproductive Technology to proceed with the surrogacy.
"It was challenging," Mr Barlow, a stay-at-home dad, said. "Through no fault of our own we have to ask for permission to have a child. It was something else that had been taken from us."
Lawyers drew up an agreement allowing the Barlows to adopt their biological child once it was born.
Mrs Barlow, a physiotherapist, had six months of IVF treatment, which was paid for by ACC because of the "treatment injury" she suffered during Adam's delivery.
On the last cycle, which the couple had agreed would be their final try, they got the news she was pregnant.
"It was really exciting."
If the baby is a boy, the couple are adamant he won't take the place of Adam.
"This baby is a different person. We would always say that we had three beautiful children."
Now they are nervously awaiting the safe arrival of the baby.
"When you're expecting a baby and you get to a certain stage in a pregnancy you don't think anything can go wrong, and after going through an experience like ours where your baby dies in preventable circumstances at birth, it makes you very concerned for your next child," Mr Barlow said.
In spite of Adam's death, which is the subject of a coroner's inquest, they, together with their surrogate, chose a midwife to deliver the new baby.
Mrs Barlow said she had accepted that she could not carry her child through a pregnancy but she couldn't wait to hold the baby. "I really need our baby just to be in my arms."
They are now awaiting the inquest findings into Adam's death, due to be released by Coroner Gordon Matenga.
The process
* The Human Assisted Reproductive Technology Act became law in 2004, paving the way for surrogacy in New Zealand.
* By law, surrogates cannot be paid.
* A surrogate preferably has completed her own family.
* In 2010-11, there were 25 applications for clinic-assisted surrogacies, compared with 15 in 2005-06.
* Only about one-third of those applications go ahead owing to many factors including a failed implant or an embryo not surviving the thawing process.
* Surrogacy applications approved since 2005 have so far resulted in 26 live births.
* 15 surrogacy applications from last year are ongoing.
Have you been a surrogate?
Tell us your story of carrying a child for someone else. Email newsdesk@nzherald.co.nz