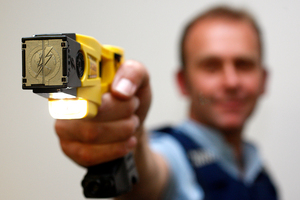 A man was tasered by police and a patrol car was badly damaged in Tasman district this afternoon.
At about 3.40pm, police were called to the south branch of the Riwaka Valley near Motueka, after a number of people said they had been threatened with a knife.
Before police could arrive, the man accused of making the threats drove off in a vehicle, which was later located on the Takaka Hill Highway.
Police attempted to stop the vehicle and speak with the single occupant. After initially stopping, police say the driver rammed the patrol car twice.
Both vehicles received substantial damage.
The two police officers attempted to arrest the driver, who allegedly confronted them and was then tasered.
Police say neither of the officers were injured, nor was the driver of the other vehicle.
A 44-year-old man was arrested and will appear in the Nelson District Court tomorrow.
He will face charges of possession of an offensive weapon, assault with a weapon, possession of cannabis, driving a motor vehicle under the influence of alcohol, resisting arrest, and dangerous driving. It is likely that further charges will be laid.
Police will be following up with a number of witnesses to the initial incident in the coming days.
Victim Support is assisting victims from the initial incident.

- APNZ