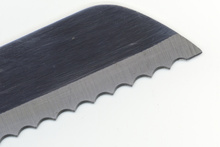 A young man who chased his brother down the street with a bread knife had no explanation to give for his actions, the Wanganui District Court has heard.
Christopher Hemi, 17, pleaded guilty to possession of an offensive weapon and was sentenced to 60 hours community work by Judge Gregory Ross.
Hemi was at home with his brother and two associates on March 28 this year when about 1.10am he got into an argument with his brother, who was very drunk.
The argument escalated and Hemi presented a bread knife and started threatening his brother with it.
His brother ran off down the street and Hemi gave chase, running down the street with the knife in his hand.
When asked about the incident, Hemi had no explanation for his actions.
Hemi's counsel, Roger Crowley, called the offence "nothing more than drunken nonsense", and said community work would mark the matter.
Judge Ross said the matter could have been more serious and noted Hemi was unemployed, saying he would stay that way unless he sorted himself out.
He ordered the knife be destroyed.