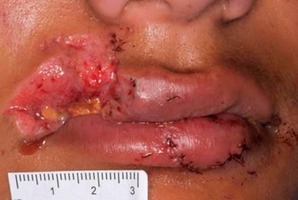 The family pet that attacked a 12-year-old boy on a camping trip remains with its owner until a police investigation is completed.
The 12-year-old boy was last night recovering after two operations at Waikato Hospital after he was bitten on the face on a family camping trip in bush near Turangi on Wednesday afternoon.
Senior Sergeant Sue Douglas of the Turangi police said the Turangi boy had known the dog and the two families, with the pet dog, had been camping together.
It is understood the boy and his father were making their way back to Turangi when the dog got a fright and jumped up and bit the boy on and around the lips.
The boy's mother was at his bedside yesterday and feared her son would now be scared of dogs. She did not want to be named.
"My son has always loved dogs and my concern now is this might make him wary of dogs. My son did nothing to aggravate the dog at all."
After speaking to the dog's owner yesterday morning, Senior Sergeant Douglas said he was confident the dog would be kept secure until the investigation was completed.
Police have yet to decide whether the dog will be destroyed or if charges will be laid.
Senior Sergeant Douglas said the dog was not a dangerous breed and had been a family pet.
"I'm confident the owner has the best interests of everybody at heart and will make sure that dog is properly secured ... We have no concerns about the dog at the moment. But it's something we will look at as the investigation carries on."
Taupo District Council group manager of operational services Gareth Green said the council had not been in touch with the dog owner as no official complaint had been made.
"We would love to know who the family or the victim is so we can investigate and carry out enforcement ... We don't know who the owner is, who the victim is and the only people who have the information is the health system and obviously they won't give us the details."
Mr Green said dog attacks sometimes went unreported when it was a family dog or a friend of the family and they chose to deal with it themselves.
"In this set of circumstances, the victim's family are probably dealing with the injuries to the boy and working through contacting us has probably just slipped under the radar."