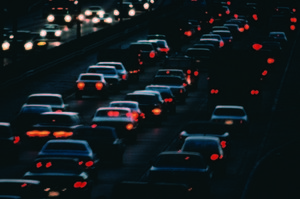 The death of a motorist caused traffic chaos on Auckland's North Western Motorway tonight.
Vehicles were backed up for several kilometres after a minor collision on the west-bound Te Atatu off ramp, forcing emergency services to close the exit.
Traffic backed up towards the city as far as the St Lukes off ramp. Police were advising commuters to avoid the motorway or find a different way home.
The crash happened just after 6pm. More than 40 minutes later the driver was still being worked on at the scene by paramedics.
Police have now confirmed the driver has died, and the collision was caused by a medical condition.